Did you know that MyBritishPassport assists with renewing your British passport in the USA? 
We understand that renewing your passport can be a huge headache, especially when your application is rejected due to an insignificant detail.
Our value-added service means that we will ensure that your application forms are accurate, that your digital passport photos comply, and that your old passport safely arrives at the passport office. 
If you are a British citizen living in the USA, below is some useful advice around British passport renewals in the USA:

Frequently Asked Questions –
Renewing a UK passport in the USA
1. Can I renew my UK passport in the USA?
Yes. You can renew your UK passport online in the USA. If you are located in the USA, renewals cannot be done at the consulate, embassy or high commission.
British nationals who are located abroad need to renew their passports online, submit digital photos and then send in their old passports. 
MyBritishPassport mitigates the risk of a passport renewal rejection as we make sure that everything has been done correctly and that there are no omissions. 
We also make arrangements for your old passport to be sent to the passport office via DHL and keep you updated throughout the process. 
Striving to make things easier and stress-free for you, MyBritishPassport takes away all the hassle, pain and uncertainty of passport renewals. 
Are you ready to start with your passport renewal? Simply click here to begin! 
2. How Do I Renew My British Passport In The US?
The process is largely the same as a standard renewal. All you have to do is click here and fill in the easy online application form.
Follow the simple steps below when renewing a UK passport in the USA: 
Complete our online application from, designed specifically for applications from the USA. Click here.

Your application & documents will be thoroughly checked by our team of experts, and sent to Her Majesty's Passport Office for processing via our reliable, registered courier.

Your new UK passport will be delivered directly to your doorstep, within a matter of weeks.
Do not make any travel plans until you have your new, valid British Passport. MyBritishPassport recommends monitoring the validity period of your passport as many airlines and immigration officials do not view passports with less than 3 months of validity as valid travel documents. 
3. How long does it take to renew UK passport in USA?
Generally, it should take from 3 to 4 weeks (renewals) to receive your new UK passport. 
It is important to note that these timeframes are guidelines only and passport renewals can take quicker or longer, depending on the current circumstances and how busy the passport office is at any given time.
Her Majesty's Passport Office is much busier in late spring and early summer when folks realise that they need to renew their passports in order to travel abroad for their summer holidays. 
MyBritishPassport always recommends that our clients initiate their passport renewals sooner rather than later. 
If your passport only has about six months of validity left, now is a great time to start the renewal process. 
Infographic: 
How to renew your UK passport in the USA 
We've explained the simple online application process to renew your British Passport from the USA in the infographic below.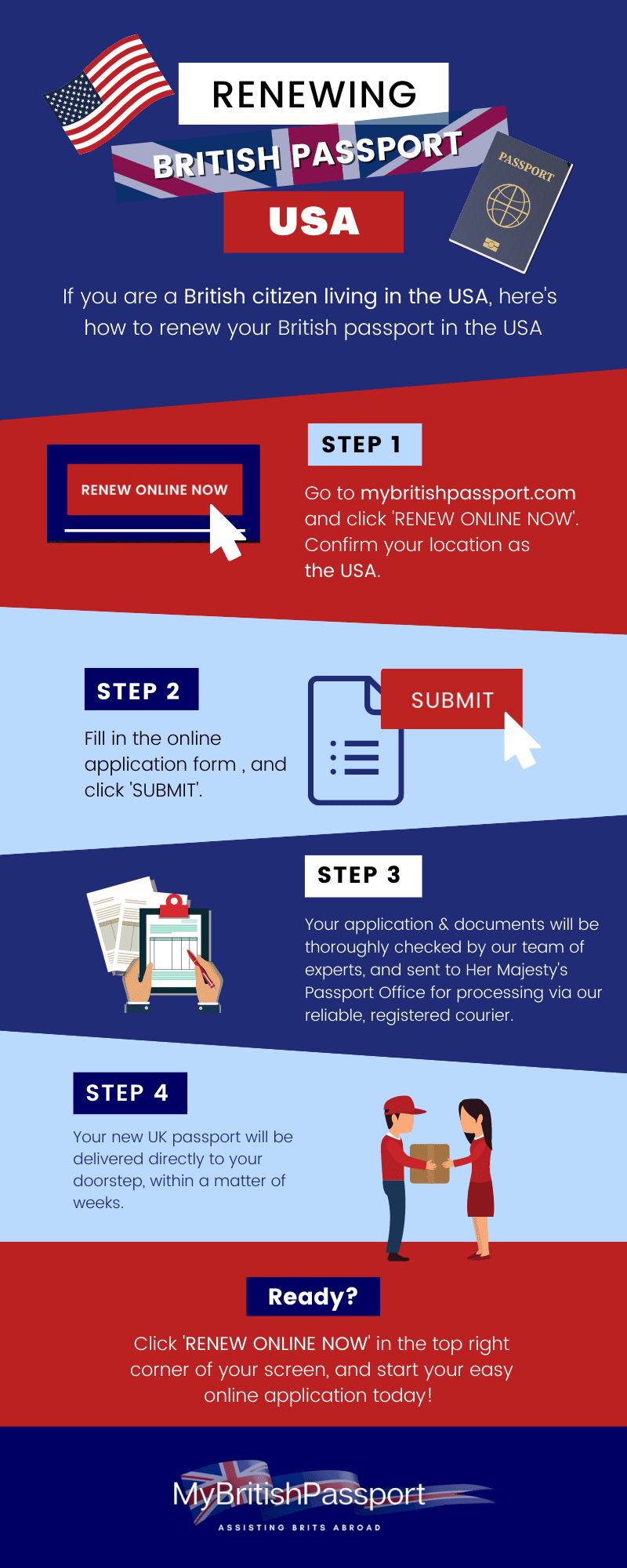 4. How can I get a UK passport photo in the US?
If you have a good quality digital camera, you can take your passport photos with that, but bear in mind that your photos must comply with the passport office's standards. 
This can be tricky to get right, so you may have to get your photos taken professionally. Stores such as Walgreens and CVS Pharmacy usually offer passport photo services, but just be sure to specify that it is for a UK, and not a USA passport. 
Need more info about British Passport photo requirements? Click here to view our infographic.
5. How long do I have to renew my British passport after it expires?
You should renew your passport if it will expire in less than six months from the date of your return to the UK. 
We recommend renewing sooner rather than later, to avoid disappointemt.
Would it not be easier if I just renew my passport when I'm next in the UK? 
This is a good idea in theory, but renewing your passport this way could cause some problems for you. 
Firstly, if you are normally resident in the USA and are just visiting the UK for a few weeks, this may not be enough time for the passport office to process your application. 
Because the timeline given by the passport office is an estimate only, you may well find that you have not received your passport by the time you leave the UK. In this case, you would have to ask a family member or friend to receive your new (and old) passport and then send it on to you in the US.
As you can see, this is quite a complicated way of renewing your passport and it is much easier simply to have it renewed from the USA. 
Here at MyBritishPassport, we believe that it's always best to be organised when it comes to your passport. This means always being aware of when your current passport expires and starting the renewal process in good time so that there are no nasty surprises. 
Renewing British passport in USA? Simply click on this link and get the process started!
Contact MyBritishPassport 
We specialise in British Passport renewals from the USA.
Topic: British passport renewal in USA